Join us for the 25th Annual Sneads Ferry King Mackerel Tournament 
Welcome to the 25th annual Sneads Ferry Rotary Club's King Mackerel Tournament (KMT), an SKA sanctioned event, to be held on August 19-20, 2016. Brought to you by the Sneads Ferry Rotary Club. Major sponsors are: Onslow County, Power Marine Outfitters, JOEMC, & Pluris. Over $40,000 in prizes will be awarded. To see the listing of prizes to be awarded and the tournament rules, click on the Prizes/Rules tab or click here. Event located at New River Marina in Sneads Ferry, NC. Registration will begin soon and even better news is that you'll be able to register right here online!

See the current fee schedule below:
Entry fee: $300
Late fee (after Aug 8): $350
TWT: $100
1 Day/2 Fish Agg TWT: $100
Single Engine TWT: $100
23′ and under TWT: 100
High Roller TWT: $250
Dolphin Division: $50
Contact this year's KMT Director – Renee Rhodes with questions at 910-546-0331.
View our 2016 King Mackerel Online Tournament Catalog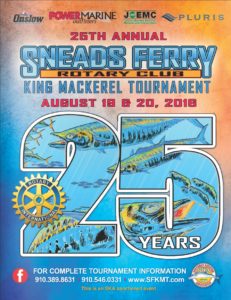 Info from last year's (2015) KMT:
Sunny skies, calm but breezy seas, and pleasant humidity greeted 151 fishing boats who took to the waters on Saturday August 15th to compete in the 24th annual Sneads Ferry Rotary Club King Mackerel Tournament (KMT), held in conjunction with Power Outfitters at New River Marina in Sneads Ferry. The tournament was sanctioned by the Southern Kingfish Association. Proceeds will go to the Rotary Club of Sneads Ferry to support needy causes in the Sneads Ferry community.
Weigh-in ran from 3PM-5PM. The first boat in at 3PM was C Ark, followed immediately by the SARAH JO. These first two boats final rankings were third and first respectively for biggest fish weighed both in the primary tournament and in the TWT (tournament within the tournament) . Reel Blessed owned by Capt. Kevin Norris, finished in 2nd Place.
The first place winner, SARAH JO, owned by Kyle Mitchell of Wilmington was captained by Chris Edens who caught the winning king mackerel weighing in at 41.01 pounds. Captain Edens and his fishing team captured the wooden kingfish first place trophy and received a check totaling $28,789 for winning. Kevin Norris's 2nd place fish weighed 40.54 lb., and his boat, Reel Blessed, received winnings of $15,921.
Lady Angler, Rebecca McCuiston, on the C-Ark received $500 and the additional third place prize money of $9,065.
The Junior Angler first place plaque, sponsored by Gary's Auto, went to Chase Hudson on Chasen Kings out of Greenville. Blake Widenhouse, took second , and Lindsey Brown third in this category. The Junior Angler checks were part of the Sea Tow sponsorship. The Senior Angler award went to Ron McElheny. This year the award for the fish closest to 15 pounds was 14.94 caught by Robert Widenhouse from Wilmington.
Captain Edens said he caught the winning fish in about 60 feet of water about 11:45AM on the east side of the shoals out off Morehead City. It was the team's first fishing tournament of the year although they have entered and fished in the Sneads Ferry KMT over the past 10years.
On behalf of the Sneads Ferry Rotary club, we thank our sponsors, our advertisers, our supporters and all the anglers who made the 24th King Mackerel Tournament a success.
The winners were as follows:
JUNIOR ANGLER:
1ST – CHASE HUDSON – CHASEN KINGS – 31.95
2ND – BLAKE WIDENHOUSE – COMIN IN HOT – 30.53
3RD – LINDSEY BROWN – C-SICK – 24.96
LADY ANGLER – REBECCA McCUISTON – C-ARK – 39.45
SENIOR ANGLER – RON McELHENEY – CHAOS – 30.15
DOLPHIN – MICHAEL SMITH – FO SHIZZLE – 13.56
KING MACKEREL PRIMARY WINNERS (in order):
SARAH JO – Wilmington
REEL BLESSED – Sneads Ferry
C-ARK – Oak Ridge
CHAOS – Sneads Ferry
COMIN IN HOT – Wilmington
FO SHIZZLE – Mount Olive
SECOND CHANCE – Morehead City
ALL IN/AM – Greensboro
TEAM WILDCAT – Maple Hill
STORMY GALE – Jacksonville
RELEASE – Clayton
CHASEN KINGS – Greenville
SEA GRASS – Winston-Salem
BLUCHIPS – Fayetteville
AFTER MATH – FOUNTAIN
C-SICK – WILMINGTON
OBX GIRL – TARBORO
WHITE OWL – DOVER
KINGS HIGH – MOREHEAD CITY