ROTARY CLUB OF SNEADS FERRY
2022 KING MACKEREL TOURNAMENT –  NEWS RELEASE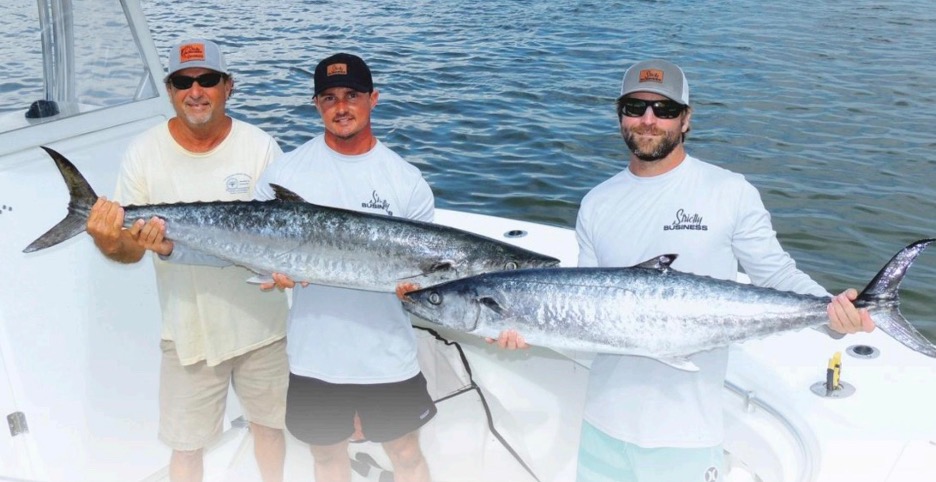 Crew of "Strictly Business" with Winning Fish in 2021 KMT
The 31st Annual King Mackerel Tournament (KMT) sponsored by the Rotary Club of Sneads Ferry is scheduled for Friday and Saturday, August 19 and 20, 2022, at the New River Marina in Sneads Ferry.  This Southern Kingfish Association (SKA) event continues to be acclaimed by North Carolina sports fishermen as one of the best king mackerel tournaments in the Carolinas.  Cash and other prizes in 2021 exceeded $50,000, spread amongst 20 different boats.  The overall first-place prize is $10,000 based on 100 boat entries.
The new owners of the Pelagic Hunter Fishing Center (comprising New River Marina and Power Marine Outfitters), John and Jessica Cruise, have kept their superb fishing venue available for this spectacular event for the Rotary Club of Sneads Ferry.   The tournament remains the Club's major fund-raising event, allowing the members of the Rotary Club of Sneads Ferry to remain dedicated to the welfare and well-being of area residents.  Proceeds from the KMT are used by the Club to assist in funding its charitable giving to the Sneads Ferry community in the form of scholarships, local projects, education in local schools, aid to seniors, and much more.
Complete KMT information and pre-registration are available online:  www.SFKMT.com.  Onsite registration for the 2022 KMT begins at noon on Friday, August 19, 2022 and closes at 9:00 PM that night.  The Friday night's Captains' Shrimp Dinner is open to the public and the $15 tickets may be purchased from any Club Rotarian, or at the door.   Hours for the  Dinner are 4:00 PM to 8:00 PM and the location is (note change from past years) the Sneads Ferry Community Center, 126 Park Lane in Sneads Ferry.  The delicious seafood meal is prepared and served by Rotarians and faithful volunteers.  The festivities officially begin at 6:00 PM on Friday evening with the "Presentation of Colors" by US Marines, followed by the Pledge of Allegiance and the National Anthem.
Fishing Day headquarters on August 20 is, as always, the New River Marina in Sneads Ferry.  Tournament fishing begins at 6:00 AM on Saturday, August 20, 2022 and closes at 5:00 PM that evening.  Weigh-in scales will open at 2:00 PM and with fish due dockside for weigh-in not later than 5 PM.
The Awards Ceremony is open to the public and starts approximately at 6:30 PM at New River Marina on Aug 20.
Contributing Major Sponsors include the Pelagic Hunter Fishing Center (Power Marine Outfitters and New River Marina), Pluris, Onslow County Tourism, JOEMC, Topsul Fitness,  First Citizens Bank, Coastal Bank and Trust, and Treasure Realty.
The always popular Official KMT TShirts are available for sale now every Saturday 9AM-4PM outside Ace Hardware in Sneads Ferry, at the New River Marina retail shop, and at the Turtle Factory store in Sneads Ferry.   Short sleeve: $25, Long sleeve $30 in a wide variety of colors.
For further KMT information, contact Phil Work, 2022 KMT Director, at (901) 489-1741.